Posted: Jan 11, 2017
We at JTQ are always trying to provide the best equipment to our customers.
Now we've expanded our product range by a new product: OC sprays
The manufacturer is Hoernecke Defence Technology from Germany, who is the leading supplier of OC sprays in Europe.
A little bit about the company:
Hoernecke Defence Technology was founded in 1896 by Carl Wilhelm Hoernecke (1856-1926) in Magdeburg, Germany. Under his son Carl Valentin Christoph Hoernecke (1892-1973), the company developed into a major chemical-pharmaceutical manufacturing operation. After the second world war, political events led to the establishment of an additional location in the greater Stuttgart area. There, in pioneering work in 1962, Peter Hoernecke discovered the possibilities of active agents filled in spray bottles. On the basis of his own research, he began to develop protective spray substances and devices for protecting people. The product line "Original TW1000" has been on the market since then and has matured into a versatile device series meeting the individual needs of its users.
The company is now in its fourth generation, led by Thomas Hoernecke, and is one of the leading international suppliers of irritant spray devices for self-defense and law enforcement. With the establishment of a technical plant, they now also specialize in the development and manufacture of high-quality technical devices and components. From their plants in Oberstenfeld near Stuttgart, HOERNECKE products go to all over the world.
Great flexibility:
Hoernecke Defence Technology can provide, at any time, products which are currently required and approved for all ranges of application. If requested, they can provide all sizes with the specific features and spray patterns you need. Accessories, as practical training sprays, first-aid sprays or holsters, complete their wide product range.
HOERNECKE ensures professionals. The "Original TW1000" product line for professional use is a series of highly effective systems that are successfully used in everyday police work to fend off physical violence and to keep riots under control. TW1000 spraying systems are designed to put potential attackers out of action from a distance. They also help to prevent serious or lethal injuries and close the gap between baton and fire arm.
BROCHURE
You can also read the Brochure for more information.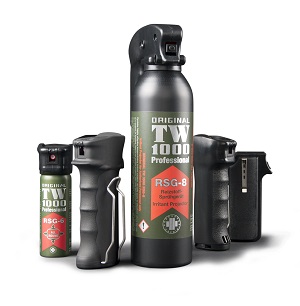 Soon available in our shop!