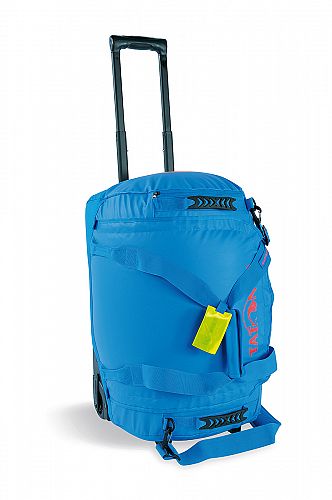 Posted: Jul 21, 2016
BARREL ROLLER – NEW PRODUCT!
We are happy to announce that we will soon add a new product to our product line – Tatonka's Barrel Roller.
At JTQ Gear we offer Tasmanian Tiger products on our webshop. We are now pleased to inform you that we will also offer a product from Tatonka company. Tatonka is a sister company from Tasmanian Tiger. It is also a company from Germany and offers high quality products for outdoor, camping, travelling etc.
Barrel Roller
Trolley 11.90 US gal lqd (S size), 15.85 US gal lqd (M size ) or 21.13 US gal lqd (L size) with two silent wheels, telescopic handle and a large opening. Made of durable and easy-to-clean material (Tarpaulin).
This Tatonka's indestructible travel bag is extremely easy to handle.
Product info:
This strong wheelie bag by Tatonka is now even more practical. It has a bigger opening to make packing easier, and the additional handles on the sides make carrying it (not something that can always be avoided) easier. The harmonious tone-in-tone look is new. Barrel Roller is available in three sizes (S, M, L).
Size adjustable carrying strap with shoulder pad
Extra-wide handles and shoulder straps
Strong No.10 zipper
Telescopic handle
Silent PU wheels
Mesh pocket inside the lid
Padded bottom
Name tag
Durable and easy-to-clean materials
Materials
Robust tarpaulin material made of 1000 den fabric with smooth surface, which is mainly used for bags. The polyester fabric is coated on both sides, absolutely waterproof and easy to clean.
The textured polyester material in 600 den threads is robust, colourfast and versatile. PU-coated to achieve a weatherproof finish.
Different sizes and colors
The Barrel Roller is available in 5 different plain colors (black, yellow, red, green, blue), and the Textreme base matches the colour of the tarpaulin
TECHNICAL DATA – Size S
| | |
| --- | --- |
| Measurements:   | 19.7 x 12.2 x 12.2 inch |
| Volume: | 11.90 US gal lqd |
| Weight: | 6.6 lb |
| Fabric 1: | Tarpaulin 1000 |
| Fabric bottom: | Textreme 6.6 |
TECHNICAL DATA – SIZE M
| | |
| --- | --- |
| Measurements:   | 22.44 x 14.57 x 13.78 inch |
| Volume: | 15.85 US gal lqd |
| Weight: | 7.28 lb |
| Fabric 1: | Tarpaulin 1000 |
| Fabric bottom: | Textreme 6.6 |
TECHNICAL DATA – SIZE L
| | |
| --- | --- |
| Measurements:   | 29.5 x 16.5 x 14.96 inch |
| Volume: | 21.13 US gal lqd |
| Weight: | 8.8 lb |
| Fabric 1: | Tarpaulin 1000 |
| Fabric bottom: | Textreme 6.6 |
Find out more about Tatonka by following this link: http://www.tatonka.com/en